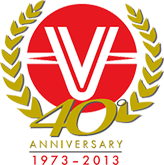 Expansion Vessels & Pressure Tanks since 1973.
Varem S.p.a. produces expansion vessels and pressure tanks for more than 40 years. It has become one of the largest producers of expansion vessels in the world, solid and reliable. 
Those who choose Varem can count on technology, quality and efficiency, these are the features that have helped to stand out in the worldwide market of expansion vessels producers. All originates from the company`s mission to transform the natural good water power, origin of life, into well-being in hydraulic technology.